Rent ice cream trucks Questions & Answers
Have questions about how to rent ice cream trucks the Mean Green Ice Cream Machine? Check below for some of the most commonly asked questions about this topic or use the contact form to ask us directly!

Q. What is the Mean Green Ice Cream Machine?
A. The coolest ice cream truck in Tennessee. Check out the newest trucks with wild graphics which you will be impressed to have show at your event. No creepy van or truck with bad stickers. Our company now has two Mean Green Ice Cream Machines to cover the many events in Middle TN area. Both have awesome graphics sure to 'Wow the Crowd'. Originally, the first Mean Green Ice Cream Machine (MGICM) was an original white 1975 Chevy International Good Humor ice cream truck. The truck had seen better days from the many years of service delivering ice cream. The outside was stripped down to bare metal, repainted in a bright green paint with customized vinyl graphics added. The truck then continued its transformation with custom hydraulics installed along with a powerful sound system, green neon, video, custom rims and other features. The freezers were completely overhauled and steam cleaned. In 2016, we have again ripped thre truck apart and replaced the entire inside from floor to freezers in order to bring you the best ice cream truck in Nashville. Sadly, the original truck was put out of service in 2018 after 40 years. we now have two updated cube style vans to bring the best ice cream desserts right to you!

Q. Is the truck inspected, insured and licensed?
A. Yes. We are inpected at least twice per year to meet the Tennessee Department of Health's requirement for serving ice cream desserts and treats. Our trucks are equipped with a totally custom interior, sinks, freezers and work area to meet the stringent rules. We scored a 99 out of a possible 100 in our health score in 2022.

Q. How much does it cost to rent ice cream trucks for my event?
A. Please refer to our rentals page or contact us for unique events. We wok with each of our customers to make their event special. Since we are a small, family owned company based in Nashville, we can accommodate any type of event or booking with whatever you need at the best pricing. Give us a try for a quote - no strings attached.

Q. Can I rent and drive the Mean Green Ice Cream Machine myself?
A. Due to insurance regulations, we do not allow anyone but our staff to operate the Mean Green Ice Cream Machine trucks.

Q. What kind of products do you carry?
A. We totally revamped our vehicles several years ago to meet the needs of our customers. We now serve delicious ice cream desserts as well as stocking many different types of pre-packaged ice creams. Also, we can carry sodas, waters and novelty items for purchase upon request.

Q. Can I have the Mean Green Ice Cream Machine serve ice cream desserts or pre-packaged...or both?
A. Each event is customized for the type of crowd as well as the customer's wishes. While we normally stock the trucks for either pre-packaged treats or ice cream desserts, special accommodations can be made for events. Please contact us with your needs and we will do our best to meet them! Call us today at 615.212.5151 but hurry as dates book quickly!

Q. Do you have recommendations from previous customer or references to give out?
A. Absolutely. Upon request, we can provide a number of references from government, police, fire, schools, HOA's, large corporations, local businesses and personal customers as we have served at events held by these types of customers.
Connect
Connect with us socially below!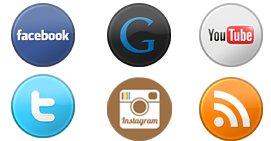 Treat your employees to ice creams from the Mean Green Ice Cream Machine!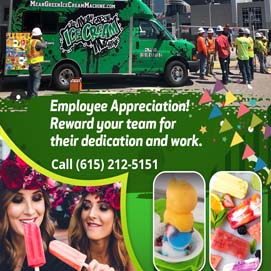 ---
Grab our two page full color fact sheet brochure to find out more about the Mean Green Ice Cream Machine!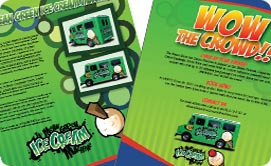 ---
Articles
Ice Cream Truck Nashville News
---
Check out some of the Nashville Ice Cream Truck Rentals videos!