Renting Nashville Ice Cream Trucks Made Easy!

February 2023. Looking to rent an ice cream truck around Nashville during the 2023 season? We serve all of Middle TN and beyond with prepackaged and hand scooped ice creams as well as real Italian ices. Call us early to book your event with us as the schedule does fill up quickly. We appreciate the support of our small local business. 615.212.5151
The Mean Green Ice Cream Machine is the popular Nashville ice cream truck rentals showpiece for your next event or function! We are a
small, local business in Tennessee
and do everything we can to make sure each event is special! The Mean Green Ice Cream Machine can make your event sizzle with our customized vehicles. Find out
how to book the coolest Ice Cream trucks in Nashville
and let us 'Wow the Crowd!
Two Trucks - THREE Services
We have upgraded to newer trucks...and we think even cooler than the original Nashville Ice Cream Trucks which sadly was retired after 40 years of ice cream service. The updated trucks allow us to bring prepackaged, hand scooped premium ice creams and soon to be announced
Nashville Italian ices truck for 2023
. We can serve hand made desserts complete with ice ceam, syrups, toppings, etc along with the original old school prepackaged ice creams. Check out the
Nashville ice cream trucks
page for more details.
Updated Menu
NEW!! The Mean Green Ice Cream Machine has ripped out the old menu and now delivers a dual menu! We have cleaned out the trucks to make them both an old school treats truck as well as a GOURMET Ice Cream Desserts Truck! We will now be serving hand scooped ice creams, and delicious desserts along with the old school treats.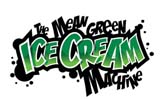 We continue to carry many of the
old school pre-packaged treats
which made us so popular, but now we have expanded due to demand for gourmet ice cream dishes and desserts.
Why Choose Us?
Have you looked at other companies that offer Nashville ice cream truck rentals?
We urge anyone thinking of renting an ice cream truck to call around to get pricing and see what actually will show up. Most other companies have simple vans not designed with a floorplan to meet the rigid Tennessee Department of Health requirements. Do you want a van showing up or a rolling entertainment vehicle with custom paint, hydraulics, stereo and the proper freezer setup? The Mean Green Ice Cream Machine is a family owned business and began with an
original Good Humor ice cream truck
. This vehicle was built by Chevy and International to specifically and only be used as an ice cream truck. In short, the truck was always an ice cream truck and has the proper setup for mobile use! Please check other companies to see the inside of their vehicles and compare! Note that in 2018, the original Mean Green truck was retired but we now have two reliable trucks to serve ice cream in Middle Tennessee.
Local Family Owned & Operated
The Mean Green Ice Cream Machine is a family owned and operated business right here in Middle Tennessee. No managers or corporations. When you call or email, you are speaking directly to the owners who will also be the ones operating the truck. We do occasionally need help on some events and have family members working with us. You can be assured that everyone working with us is professional, uniformed and fun! No worries about who is showing up at your home or office. We are parents too and know it can be nervewracking as to who may show up. Be assured we are clean cut, professional and not just working for a paycheck. This is our business and proud to serve our customers.
Nashville Food Truck Association Member
We are part of the Nashville Food Truck Association which is the premier organization in the Middle Tennessee area formed for the sole purpose of promoting, expanding and protecting mobile food vendors. Also, we were the first permitted mobile food vendor in Nashville for the Mobile Food trucks pilot program as seen on WSMV.
Click here to see us on WSMV 10 O'Clock News!
Attention to our Customers
Our prices are competitive and since we are a family run business with two 'Machines'. We spoil our clients with undivided attention. You will never be just a stop on a route because we do not run routes! We spend time with our customers making sure they get the full 'Machine' experience and not just focused on selling ice creams. From birthdays, car shows, fairs, employee appreciation, picnics or any type of event, the Mean Green Ice Cream Machine is sure to 'Wow the Crowd'.
For those interested in the original ice cream truck which started the company (since retired), you can learn more about this unique custom hydraulic ice cream truck on our truck page. Check out our
fact sheets
and contact us today to reserve your spot. Dates fill up fast!
Connect
Connect with us socially below!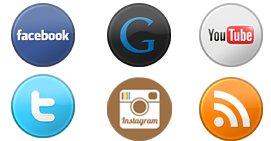 Treat your employees to ice creams from the Mean Green Ice Cream Machine!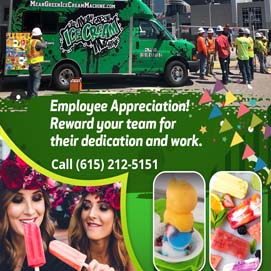 ---
Grab our two page full color fact sheet brochure to find out more about the Mean Green Ice Cream Machine!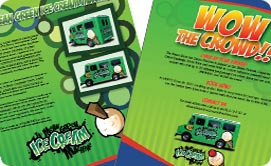 ---
Articles
Ice Cream Truck Nashville News
---
Check out some of the Nashville Ice Cream Truck Rentals videos!